After an extended break, Moka Pots is back as a coffee forums sponsor.
Hopefully, all the old members are around & it'll be nice to meet some new people too.
We'll be updating our website soon, but we still have a wide selection of Moka Pots made in Italy by Top Moka as well as some nice gift packs.
Our latest edition is the
Super Top Moka
that has some updated features like a diamond-treated double boiler bottom and an improved heat release valve for better control. And, they have toned down some of the colors with this model, which I really like. My favorite right now is the gray and silver since I'm a fan of classic, understated styles.
Have a look: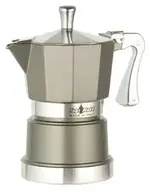 Any questions, feel free to ask.
Sherry