Hi Friends!
I opened my lovely cafe in my beautiful small town. It was beautiful and well-loved. However, I've had to close up because of a health crisis that I can't work and focus on fighting! I originally wanted to lease the cafe but I couldn't find the "right" person...
So-- I am selling ALL the contents of my cafe; asking price is $18,000 and I can arrange delivery if in the United States!
Here's the listing:
** Equipment used and pamper by me exclusively for less than 6 months. Must sell STAT—I want it sold as one complete set)
Café in a Box includes:
2 Fiorenzato
F64E
Espresso Grinders ($1,800)
Synchro One group espresso machine (custom ordered colors, and all espresso accessories) ($7,500)
Bunn Brewer/ Bunn Grinder ($600)
6 larger airpots and related supplies
4 cases of white latte cups and saucers (300)
2 cases vintage 8oz coffee cups and saucers (200)
200 antique and rare tea cups (Value $2,000)
5 round tables and chairs various sizes /antiques with linens (400)
several sets of vintage Italian espresso sets (150-300)
cases of 12, 16 and 20 International paper hot cups & 200 lids
$300 worth of brand new teaware in their boxes
Suppliers include 100% organic teas (locally crafted) and an amazing source for the best organic and fair trade hot chocolate ANYWHERE! Business name, logo and one of a kind recipes included..
Also have beautiful brand new French-door fridgerator($1,000), counter top convection oven, and undercounter dishwasher (200).
Various antique furnishings (1,700) and baking equipment…
Additional items available separately--include gorgeous 'shabby chic' displays, counters, and other decor.
Serious inquiries only--
email questions and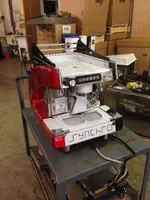 your contact information to this post and someone will contact you directly!