Does anyone here not start the day with coffee? What could be better? ---- CBD and Coffee!
Cannovia has an ideal solution "Agave Beverage Powder" Tasteless, odorless, but packed with the benefits of CBD. (We even made the Modern Luxury DC 2019 "It" list.) "For me, the effects include energy, focus and elimination of mild joint pain," he says. The powder is vegan, and THC- and gluten-free, and can be added to coffee or tea."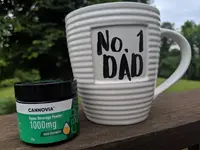 We'd like to see what others think. Visit cannovia.com and use coupon code: coffeeforums20 and get 20% off our agave beverage powder, or any other one of our products, and free shipping.
Let us know what you think!