***COFFEE VAN FOR SALE***
VIN
: 1gbhg31u031180245
Year
: 2003
Make
: Chevrolet
Options
: 6-CD Changer, Back-up Camera, CD player
Model
: Express 3500
Safety Features
: Anti-Lock Brakes, Driver Airbag, Passenger Airbag
Trim
: Base Cutaway Van 2-Door
Power Options
: Air Conditioning
Drive Type
: RWD
Disability Equipped
: No
Mileage
: 63677
Coffee Truck
: Seattle Coffee Truck Original 2003, Now 2013 L.A. County Codes.
Exterior Color
: White
Interior Color
: Gray
Number of Cylinders
: 8
Warranty
: Vehicle does NOT have an existing warranty
LOTS OF OTHER COFFEE EQUIPMENT INCLUDING POUR OVER BUNN COFFEE MAKER, PASTRY CASE, LARGE HEAVY DUTY TWO SIDED "A" FRAME MENU BOARD, 4 ISI WHIPPED CREAM CONTAINERS, THERMOMETERS AND PITCHERS, CUPS, LIDS, SWEETENERS, ETC. THOUSANDS OF DOLLARS WORTH OF EXTRA EQUIPMENT INCLUDED. TO MUCH TO LIST EVERYTHING MUST SEE.
COMPLETELY PERMITTED L.A COUNTY, WITH LETTER (A) COMMISSARY IN PLACE. AT LOW RENT COST, LONG BEACH $150.00 PER MONTH.
FULL PLANS FOR EASY PERMITTING JUST ABOUT ANYWHERE.
I have a USED 2003 Seattle Coffee Truck, Now Retrofit by a well-known Fabricator to new Los Angeles Health Dep Code year 2013 to current date. This truck is built double capacities require by health standard codes. The truck only has 63677 miles on it and has been used for 2 years since new retrofit date. The mileages alone don't tell how new this truck is, the onboard 6000 watt Honda Generator only has 2165 hrs. on it! I say like new, everything about this truck is in immaculate condition, interior to exterior. I'm the Original owner from the new retrofit date. I did the layout with the most Barista friendly feel. Serve is in the RT side, Install New Feb 2015 B.F.C 120volt 2 Group LIRA Espresso machine with dual steamer 6 litter boiler, you can run up to 6 shots at one time. The new Quamar digital grinner will make sure the 21 grams are always on target for a 100% consistency no more guessing or eyeballing. 2 in counter Blendtec blenders with 4 containers. This van is currently servicing 2 gigs one is Playa Vista Farmers Market every Saturday and Malibu Cars and coffee 2 times per month. Just in weakens 3K immediate income. I will include the menu secrets and starter supplies. I will also pass my coffee formula blends to continue same quality as long the new owner wants it. I sale you a van with current operating permits and being currently operated, not just a van but a working van generating revenue. The only thing not for sale is the brand name Coffee On Gears Organic; you can re wrap your new business name.
o Solar Panels on the Roof to Keep the Gel Batteries Charged Which Helps Extend the Life of the Batteries
o Back-up Camera
o Custom Four Door Package - EHD approved
o 2 Group Fully Automatic Espresso Machine (NSF Approved) (New Feb 2015)
o Professional Grinder & Knock Box (ETL Approved)
o Commercial Refrigerator - 6.0 Cu. Ft.
o 3000 Watt Invertor System
o Hi-Amperage Fuse Protection System
o Deep Cycle Sealed Gel Cell Batteries ( NEW INSTALL FEB 2015 )
o 6000W Honda Generator w/ muffler system(Bonus 2 additional Honda 2000Eu Generators)
o Multiple Automatic Transfer Switch System
o (1) 45 gallon fresh water tank - Espresso Machine
o (1) 45 gallon fresh water tank - Hand Sink
o (3) 90 Gallon waste tank
o Shurflo 2.8 GPM pumps
o Espresso Mate Water Condition System (QC4)
o Meissner Alpha 1 Filter System (Particle Filter)
o Hansen Quick Disconnect inlet valve
o Stainless Steel Sink with bar faucet
o Stainless Steel Drop in Ice Bin
o ISE W152 ( 6 gallon ) water heater
o Custom Cabinetry with Condiment Counter, stainless steel
o Stainless Steel Side Fold Down Shelves
o Six (6) Cup Holders
o Stainless Steel Towel Dispenser
o Start Up Supplies
o Pull Out Spray Wand
o Counter Top Soap Dispenser
o Full Acrylic Pastry Cases
o Stereo Speakers in rear
o Syrup Rack
o Magnetic Menu Board
o (2) Blendtec EZ Blender w/4 Jars
o (2) NSF Ice Box with over 150 pounds of Ice with self-contain system
o lots of storage room for supplies
o Blendtec washing station rapid rinser
o lots more of equipment to long to list all included.
O Teflon pitchers to steam milk nonstick
I have added a 3 Compartment ware washing sink (NSF listed) that is fully functional. All compartments are 10inches wide, 10 inches long, and 10 inches deep with a swivel spigot. It has hot and cold water pluming and should meet all health code. This truck was permitted in Los Angeles County, California, which has one of the highest standards in health codes. So it should pass any health and safety inspection.
A brand new truck will run you anywhere from $120,000-$130,000.00 just van No running business like this one. But why pay that much when you have a truck that is almost like new and will run you less than the original price. My price $65,000.00 OBO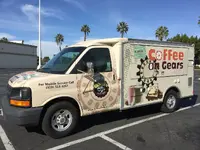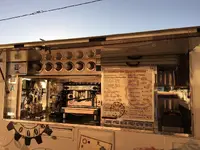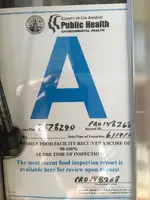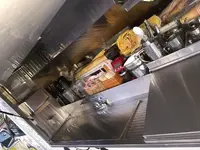 If you are interested or think you are interested, please email me at or call me at 310-513-3217 or e-mail at
[email protected]
serious inquire only.