Greetings! Equipment is about 18 months old of light use. I've changed the gaskets and kept up with meticulous daily cleaning on the espresso maker (her name is Bella
The Mazer auto-dosing grinder has a while before it needs new burrs; all is original; cleaned with brushes and vacuumed out with a shop vac to keep it all pristine. They can be sold together or separately.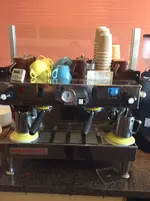 Ok, the obvious: La Marzocco makes great espresso makers, and a lot of the "third wave" coffee roasters won't even sell to you unless you have one. And, they're heavy. 85 lbs or so.
Also heavy, I have brown mugs, yellow cappuccino and blue latte sets from Espresso Parts, plus white tea cups. These are easy to mail but shipping is nearly prohibitive on their own. Happy to combine! [Already sold: white "tulip" espresso cups; the small mazer super jolly grinder.]
Pick up is in Sunnyvale, California. If you want the espresso maker shipped to you -- honestly, I'm not sure how to go about that. Other items are easy enough to ship. Let me know what you want to do and I'll do my best to support your needs.
I had a great time running both the tiniest and best-rated cafe in my area, but to my surprise I landed my dream job from my prior career. I hope this equipment will serve you as well as it served me. Many happy memories here. Please send me any questions, and make your best offer. Thanks!