Large Kyoto Style Cold Brew Coffee Tower
Barista's and Bartenders, home coffee enthusiasts, you will love to create brand-new cold brew drinks with your favorite coffee bean blends- have fun with the endless possibilities of a Kyoto Style Cold Brew Coffee Tower! Add a little ice and fruit to your water as it cascades down through the beans to create a new flavor profile, or make a great new cocktail blending some liquors with the delicious coffee! Experimentation is life!
Have one as stand-alone unit or get a couple and be running a few different roasts at the same time!
These Kyoto style towers are custom built per order so we can offer a variety of sizes and shapes.
These are at home in your urban loft or in a rustic cabin. The slow drip cold brew coffee towers are sure to be a conversation piece that your friends envy, and each one is custom built from woods and metals that we work with you to select- so let's build one to express your style!
Pictured is our large single tower with Sapele Wood and Copper supports.
With the glass installed-including top lid, the tower height is approx. 45 inches tall and base is 11 3/4 x 11 3/4 x 2"
The heat resistant glass specifically designed for cold brew, these unique and beautiful coffee makers take your favorite roasts to produce a complex full-body flavor that eliminates the bitter undesirable acids and oils normally found in hot brewed coffee. Cold brew coffee is produced normally in concentrates that requite some dilution.
With large volume crafts for high capacity brewing, on average you can produce 100oz or approx. 3.3 quarts. Depending on the temperature and coarseness of the grounds, the average process can take 4 to 16 hours for smooth tasting coffee.
Our single Kyoto Style Cold Brew Coffee Tower comes with:
1x Top Ice Water Beaker
1x Brass Drip Rate Valve
1x Coffee Grounds Container
1x Coil Tube
1x Coffee Craft
3 Tier Custom Wood Frame with metal supports.
Non-skid feet for stability.
For more information on how to order this stylish custom coffee maker your Java junkie friends will yearn for,
message me here and I can send you information on Shipping / delivery area and pricing.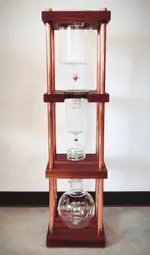 Currently available in WA / OR / CA / NV / ID and MT