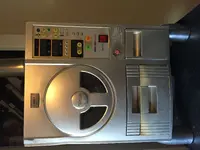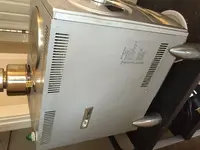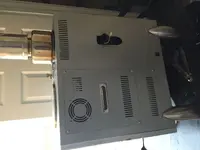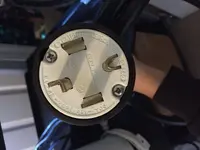 This is an electric coffee roaster that operates on a 220v outlet. It uses a powerful halogen light as it's heat source, and the drum rotates around the light mixing up the coffee for even roasting. It has a built-in afterburner that eliminates much of the smoke produced while roasting coffee and can be operated indoors with minimal venting (I just place a box fan in an open window). It has a 1.5 kilo roasting capacity, and I've found it to roast best with batches of 2.5lbs. Takes approximately 12-15 minutes to roast a batch of coffee, depending on how dark you like it.
Need to sell quickly... moving to a small loft apartment and won't have space for the roaster!
Reply to this post if you're interested in the roaster or if you have any questions. Feel free to send me an email at isaacqualitygoods [at] gmail.com. If you're local to Baton Rouge we can set up a time for you to come check it out.
A pdf manual for the roaster can be found online, but I'll write up a how-to guide on how to use the roaster to help you get started roasting quick!
Details:
* IMEX Digirosto Pro 1500
* Made in Korea
* Digital coffee roaster - control temperature and time with an easy-to-use interface
* 1.5k max capacity - 2.5 lb batches work best
* Roast back-to-back batches with ease
* Built-in afterburner that eliminates (most) smoke produced while roasting
* Built-in cooling fan
* Chaff-collection tray
* Built-in fire extinguisher in case of emergency
* Runs on 220v outlet (I use the one my for my dryer so I wouldn't have to install a new one!)
* Features Auto-roast mode as well as manual-roast mode
* ETL certified
* Commercial or residential use
* Very easy to use, even if you've never roasted coffee before

$1800 obo. I'm located in Baton Rouge Louisiana. Willing to deliver within 1 days driving distance. Will ship freight with in lower 48 states.
Last edited: