Dimensions & Weight:

Height: 19 in
Width: 30 in
Depth: 20 in
Weight: 165 lbs

Boiler Capacity: 10L

Power:

Voltage: 208-240
Phase: Single
Max. Power: 4200-5500 Watts
30 Amps

La Cimbali M29 Selectron DT2 | Semi-automatic (automatic pump, programmable dose)

2 Espresso Groups, 1 Hot Water outlet, 2 Steam wands, requires a mains connection water supply

Refurbished after 18 months use in a low volume coffee shop the following modifications have been made:

- Rubber heat seals within group holders have been replaced
- Excess steam vent has been linked to the waste pipe to minimise waste
- Internal electronic control board has been replaced with a newer model from the manufacturer

Signs of wear remain on the cup warming deck (rubber mats) and the hot water outlet,

Otherwise this item is in excellent condition, ready for immediate use

Retail value: $7,000 USD, looking for offers in the region of $3,500 USD plus courier fees if required.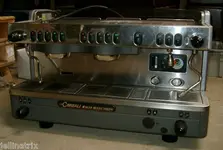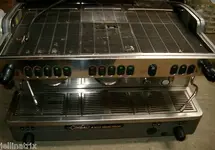 Blurb:

This machine is elegant, efficient and simple to use, particular attention has been given to ergonomics resulting in safer working conditions for the user with a well-planned layout of controls with clear symbols, ample working space with a generous electric cupwarmer and optimal grip of the balanced filterholders. The groups are equipped with a heat exchanger which improves the thermic balance of the machine in order to always prepare a perfect espresso, whatever the blend of coffee and under any working conditions.

Water and steam for hot beverages pass through 2 high-performance multidirectional diffusers for the preparation of creamy cappuccino and other hot beverages, in addition an automatic valve prevents the liquid being heated from being sucked back into the boiler and an electronic device assures the optimum water level in the boiler to reduce energy waste and ensure the machine does not experience a thermic shock. The electronic system within the machine checks main functions, and has built in alarms in the event of internal faults to optimizing any necessary engineer's intervention in case of breakdown.

The microprocessor of the electronic system enables the operator to switch the machine on and off automatically, to program the doses for each group, and to easily modify the number of coffees prepared and the electronic components complies with international safety standards. Top quality materials, modern production and control techniques, the care and experience of a company with more than 80 years of espresso coffee machine manufacturing, all combine to ensure the reliability and long service from one of the world's best espresso machines.

Available via courier for UK (domestic) or International delivery (FedEx), buyer may collect if preferred.

Any questions please ask.