Our Nuova Simonelli Aurelia II Semi-Automatic espresso machine is like new and has pulled fewer than 4000 shots between the two group heads. It was professionally installed and maintained by ABCD Espresso in Conshohocken, PA. Purchased new a year ago for $8,000 plus freight. Water maintained at ~50ppm hardness during use. Delivery available within ~100 miles of 19025
for an extra fee. More details below if you're not familiar w/ the machine.


Features and Functionality
Heat Exchanger: With its copper boiler, this heat exchanger will allow you to brew and steam at the same time with ease and at a faster rate than non-heat exchangers. The temperature will stay consistent through and through from boiler to brew head giving you that ideal shot every time.
Soft Infusion System: Guarantees soft and creamy espresso shots every time.
Loved by Baristas: The Aurelia II introduces 4 new features your baristas are going to love.
The Reverse Mirror: Allows the barista to see the shot pour out without having to bend down under the group head
Cool Touch Steam Wands: No more burnt arms, hands, or egos. Touch anywhere on these steam arms. Also due to the lack of heat, say goodbye to the milk encrustation you see on every other machine.
Milk Light: An LED light that points down into the frothing pitcher.
LED Lights: Soft LED lights illuminate the front of the machine.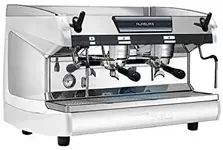 Manual can be found at https://simonelliusa.com/images/AureliaII-Manual-SV-en.pdf