Like New - Works great, no issues. Comes with extra belts, label press and parts.
Asking $600

Suitable for quickly heat sealing all types of plastic materials and bags. Saves a ton of time when packing product!
Free-standing machine (no rack needed!), easy to move/reposition as working and is designed to install on standard countertop (specs below).
FEATURES:
• Durable stainless steel (not the cheap plastic version!)
• Easy to operate - minimal operator training
• Fast warm up time
• Seals any thermoplastic material including PE, PP, and laminates
• Solid state temperature controller to maintain seal bars at proper temperature for consistent seal quality
• Motorized rubber conveyor with variable speed control
• Knurled pressure wheel rolls with variable pressure adjustment
• One pair each of cooling and heating blocks
• Sealing method - constant direct heat
• Unit feeds left to right
• Equipped with an emergency stop button
• Manufacturer's spare parts kit includes:
PTFE sealing belt, drive belt, PC Board, tools, and and typesets (numbers 0-9 and letters EXD)
Specifications
Power 110V / 60Hz
Motor Power 50W
Sealing Speed 0-472"/min
Seal Width 8MM
Temperature Range 0-300°C
Conveyor Size 38" x 7"
Single Conveyor Load 2.2lbs
Max. Conveyor Load 6.6lbs
Character Size 3 x 4 x 9mm
Optional Embossing 1 Line Embossing (3 sections with 15 characters/line)
Dimensions 33" x 17" x 13"
Weight (lbs) 66
Open to offers
Local pickup preferred, but willing to ship within USA. Msg for quote.

I also have a weigh fill machine, if interested. Thanks !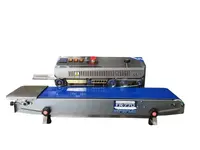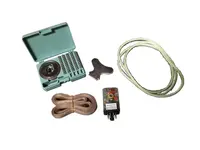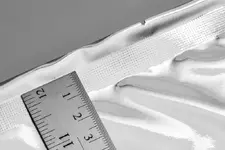 Last edited: