For Sale: Primo PRI-35 drum roaster with iPad mini & bluetooth thermocouple.
220V, 3/4" natural gas inlet, 144,000 BTU with Two 23" x 9" infrared burners, 6" chaff cyclone & cooler vent (with pipes).
Primo rates their machines on output in lbs, so this machine will roast up to 45 lbs green with 35lbs roasted (it has a 50lb capacity drum).
I purchased this machine new in 2005 and have maintained/serviced it in regular intervals 4 times a year. It got new drum bearings in 2015, new burners in 2016.
Ipad mini was added in 2016 (roastmaster app) and a second thermocouple port was added for data logging with a bluetherm duo wireless thermometer.
Included with roaster sale:
Jacob tubing 6" vent pipes with clamps and gaskets (3 elbows and 2 straight pipes)
2 large and 2 small gears to adjust drum RPM (6 gears total with the installed on the roaster)
Replacement chain links
Spare rocker switch for face panel
Alternate natural gas jets (brass fittings) and drill bits to modify BTU output
iPad Mini 2
Bluetherm Duo wireless thermometer
New thermocouple for wireless thermometer
Asking $14,600
View attachment 9545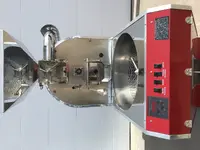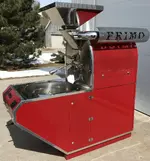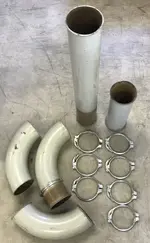 Last edited: