FOR SALE: Rancilio EGRO One Touch Pure Espresso w/ Touchscreen - FULLY FUNCTIONAL


We have a refurbished, low use, Rancilio EGRO One-Touch Pure that has just been factory serviced at our local dealer. It is clean, tested, calibrated, and ready to use on arrival. Original price is $15,800.
Asking $ 5800.00 or make us an offer.

Located in Colorado, can ship if needed (Contact with shipping zip code for a quote)

Below are the specs:
Product Details
Overview:
Simplified Elegance.

The Egro ONE Pure-Coffee combines style with high quality functionality. The floating design of the strong front panel highlights the brilliant touchscreen interface and provides an ergonomic design element.​
Features:
Interface: The easy-to use user interface guides the barista through the choice of products. The multi-colored page system enables the barista to choose from 48 products, each one with its own attractive user-friendly icon. Restricted access technical menus offer the machine administrator a wide range of additional functions, such as precisely defining the ingredients of each individual drink, creating new drinks, checking machine consumption, running diagnostic checks and regularly cleaning the machine with step-by-step procedures shown on the display. The ONE Touch has an advanced user interface with a 5.7" touchscreen graphic display in full color.
Dura-Brew: The ONE features the most durable brewing technology available in this class of equipment. The patented stainless steel brewing group features advanced sealing technology which requires less maintenance visits and reduces the cost of ownership.
iSteam: The completely automatic intelligent patented iSteam wand froths milk to the perfect texture and temperature. The comprehensive software offers a full range of frothing levels ensuring that your unique taste profile is achieved.
Specifications:
Measurements: 31" H x 12" W x 23" D (78.74 cm H x 30.48 cm W x 58.42 cm D).
Weight: 126 pounds (57.15 kilograms).
Power: 6700 watts, 220 volts.
Boiler capacity:

Steam: 0.5 gallons (1.9 liters).
Coffee: 0.13 gallons (0.5 liters).
Performance:
Espresso: 250 cups / hour.
Coffee: 180 cups / hour.
Fresh brew coffee: 4.76 gallons (18 liters) / hour.
Hot water: 9.51 gallons (36 liters) / hour.
Manual milk heating time: 25 seconds.
Daily cleaning time: 5 minutes.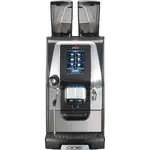 Last edited by a moderator: