I just came from a short vacation in Madrid, I was surprised every bar in Madrid serves
espresso coffee all day long. I stopped every morning in El Palentino,
a bar in calle Pez (Fish street), which was close to my apartment, where dozens of students
where having the first cup of coffee before going to class. The aroma coming out from
the place called my attention the first day, the place was not very appealing from the
outside, but the aroma of espresso coffee and the youth surrounding the entrance made
me walk inside without thinking. The bar is attended by Antonio, whose in his 'almost 70'
has been in the business for more than 40 years. I asked him about his secret
for this great coffee, the taste and the aroma, and he told me, I have been using the
same brand of coffee for 30 years now, but the real difference is in the
espresso machine
!
For a great cup of espresso coffee needs the water's pressure and the water's temperature are of critical importance. The same with tea.
I have been using La Pavoni, La Spazialle, and even La Cimbali, and they worked fine, but after a few years, got problems. The last 10 years, my coffee brand, brought me this one, Marcfi Automatic M990 Control D. It has been a great change. It turns on and off automatically, refills water, adjusts pressure and temperature, etc, and as I tell you, after 10 years I don't have to worry about anything else, just to have enough cups for 'my students' and clients! And then, it brewers the best espresso coffee in Madrid. Don't you smell it ?
Marcfi is my secret for a great coffee !
So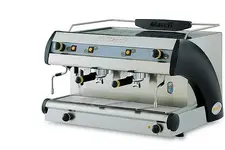 you know, if stop in Madrid don't forget to have a espresso coffee in El Palentino. They have a facebook profile.