This is has been another good year for earned media for us.
From the recently published book "100 Things to do in Salt Lake City Before You Die"

" Drink the perfect cup of coffee
Caffe d'Bolla
•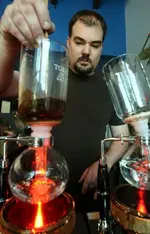 Fastidious isn't a strong enough term to describe owner John Piquet, who is a nut for his coffee and is nationally known as a roasting and brewing expert. He positively fusses over every cup he serves.
If you really want to see him in action, order a $12 cup of siphon coffee. It's an impressive procedure as he painstakingly fires up the siphon and serves you what may be the perfect cup.
Don't ask for cream or sugar unless you want to see John's eyes roll completely out of his head and then be chased out of his coffee shop. "
Utah writer offers bucket list of urban adventures in '100 Things to Do in Salt Lake City Before You Die' | The Salt Lake Tribune
... And although my reputation is based in truth, it's been since the early years of siphon (about 2008 and some 10,000 cups ago since the question of adulterating the coffee has even been asked.)
We learned more than 7 years ago to inform customers, "in-house, and black only." We've done a good job at cultivating an informed and thoughtful customer base.
It's because of the respect and appreciation that we give to our craft and our coffee that customers grant that same level of respect to us.
Last edited: