Hi Coffee Enthusiasts and Entrepreneurs,
I am selling a 15 Kilo Ambex Roaster with
only 20 hours of working use
. The perfect roaster for a small and medium scale roasting business, start up or serious coffee roasting clubs that want absolute control of their roast!
The
AMBEX YM-15
utilizes impinged jet atmospheric gas burners for a cleaner, more precise roasting environment. Independent roasting and cooling allow for continuous, consistent performance, reducing overall operation time. This machine is able to take in natural gas or propane, it is currently with the propane kit installed and can be used with a propane tank or source for mobility.
Technical Information:
Input batch capacity: 33 lbs
Maximum batches per hour: 4
Motors: 4
Power: 110V - 60 Hz - 30 A (220 V - 50 HZ Available)
BTU's: 100,000
Dimensions:57" x 27" x 70" (144.8 cm x 68.6 cm x 177.8 cm)

Weight: 720 lbs (330 kg)
Local pick up please. Pallet Jack included and the roaster is already conveniently on a pallet. It's HEAVY! Lift gate is a must. The machine is currently located and stored indoors in Orlando, Florida. See pictures attached. Asking Price $14,900/OBO canperco at msn .com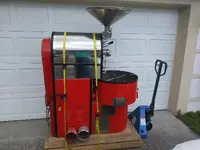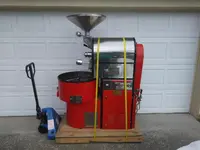 Last edited: