Hello,
I have a Malkhonig VTA6 SW - Single Phase grinder for sale. If you know anything about Malkhonig, you know they produce the highest quality engineered coffee grinding equipment on the planet. The VTA 6 is their highest capacity grinder just before you get into industrial volumes. This bad boy grinds about 300-350 lbs an hour depending on grind size. I bought it brand new a year and a half ago for $4600 plus tax and shipping. I'm asking for $3500 for pick up in Los Angeles, CA. Can arrange shipping, email me for details

[email protected]



We moved up to a larger volume grinder and this one hasn't been getting much as at all for the last couple months. It's time for someone else to put her to better use. It's perfect for retail or a high volume cafe. Has brand new burr plates.



The effective shaker device and the bag holder with integrated switch and built-in cleaner for residual coffee provide simple handling.
Hopper Capacity- 2.2 lbs.
Grinding speed (fine to medium)- 3.1-3.5 lbs/min.
Frequency/Phases- 60 Hz/Single-Phase.
Motor- 11 amps/1 3/4 hp.
Grinding Disc Diameter- 120 mm.
The most powerful shop grinder:
• superb coffee quality because of extra fine and homogeneous
grinding — as well for espresso and Turkish quality
• cool grinding due to integrated motor cooling or additional
ventilation as an option
High capacity:
• high speed and reliable grinding up to 2750 g per minute
Proven design:
• classic MAHLKÖNIG design, symbolises quality
and consistency

Extras:
• different grinding discs for regular coffee, espresso and
Turkish available
• fast removable upper part allows easy cleaning
• large hopper
• raised outlet height, foot extension and frequency converter
• tungsten carbide discs offer up to ten times longer life time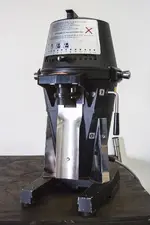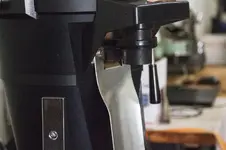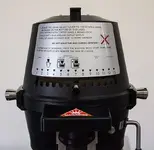 Last edited: