Little Feet Coffee Company
In 2008, on a dirt soccer field in Honduras, The Little Feet Coffee Company was founded.
We have 3 principles.
- Take Care of our Farmers by paying above Fair Trade pricing and offering profit sharing on all our sales.
- Take Care of their Kids by giving every child the equipment, training, and opportunity to play the "beautiful game" of soccer.
- Take Care of You by providing some of the best specialty coffee in the world.
Each bag contains 100% Arabica Coffee Beans. You can order whole beans or we can grind it for you.
Little Feet Coffee is Certified Rainforest Alliance, 100% Organic and purchased directly from our farmers at a premium price higher than current Fair Trade Prices.
Get your coffee and help support our farmers through the link below:
https://www.e-junkie.com/ecom/gb.php?ii=133345&c=ib&aff=46709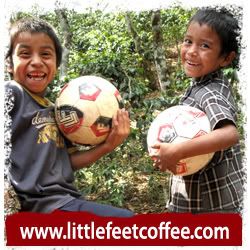 Enjoy!