Hello everyone.
I am new to this board and wanted to post an introduction for me and my (and my partners) new export company from Thailand. I am a British citizen and have been living in Thailand for the last 2 and a half years. I have always enjoyed good coffee and I was pleasantly surprised when I discovered that Thailand has a very good, unique coffee bean in the northern regions. However, Thailand consumes the majority of its coffee itself and only a small amount is exported. So we saw our chance, contacted the farms directly and formed our company...
Which brings me onto the company. Our export company is called Tukgae Exports and we are based in Bangkok, Thailand. We are specialising in exporting single origin premium grade AA organic arabica coffee. It is shade-grown at 1300 metres from the north of Thailand in Chiang Mai, specifically in the Doi Saket region (Saket mountain). We believe that we have a truly unique bean with some very interesting characteristics. It has a sweet aroma and a very smooth, earthy body to it that I believe people will love like I do!
We are just beginning to export right now and are currently looking for buyers who we will be happy to send samples to. If you have any questions then please do not hesitate to contact.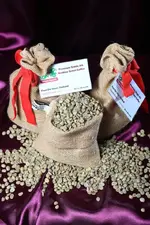 Thanks!
Gareth,
Tukgae Exports