I've decided to finally join the ranks of the dattalogers!
Looking for help upgrading my setup. I've been roasting with this setup, minus digital data-logging, for a few years now, with the help of Rain Frog's Roastmaster iPad app (highly recommend for starting out!)
I apologize in advance if I'm all over the place. I have lots of questions.
What I have:
- 1K drum roaster (see pics), motor geared to 60rpm
- Artisan roasting software: Haven't used it yet.
- Mastech 6415 (in the mail!) Dual-channel temp sensor, USB interface Meter.
What's the best way to get a good BT & ET read?
Should I upgrade the probes from the standard flimsy wire k-type (exposed?) sensors, to something sheathed?
- Is there a way to hack/rig the flimsy wire K sensor to a manual thermometer sheath?
- There are two manual thermometers installed (see pics), should I just use those slots?
Are ungrounded thermocouples better for roasting, vs. grounded or exposed-wire, and does diameter of probe matter much?
Also, on a slightly different topic:
Airflow/vent: Currently, when approaching 1C, I have to lift the doors on the sides of the machine to slow the roast down (pain in the A, but usually gets the job done). Any recommendations?
Can I just rig up a vent-tube to pull air through the bean-chute (subsequently doubling as a chaff collector)?
(Full circle)
If I can control air-flow through bean chute, would this give me better overall controll of roast, including more accurate BT reading?
Thanks for reading.
(Pics)
- - - - -
I call him Brave, the little Roaster.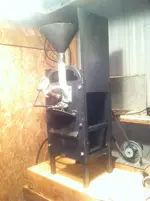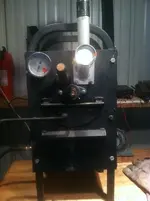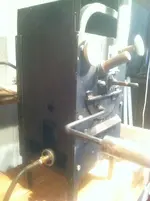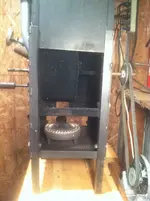 I didn't make him. Wish I had. I just added the motor. It came as a hand-crank, so I switched the shaft around and added the pulley. A guy on ebay, from Texas, who went by the name Lloyddster, built it. Not sure what happened to him. Seemed to have disappeared. If anyone knows how to contact him, let me know! I need to thank him and send him some beans.