Hello Everyone!

Sorry if this is the wrong place, I am new to the forum, my name is Eric Zentmyer (that's me with the donkey),
I am working on a coffee-related social enterprise that has grown out of seven years of NGO work with coffee producers in Mexico and I am hoping to get feedback from retailers through the forum.


Previously I coordinated a community forestry program in Veracruz and Oaxaca, helping farmers to diversify their coffee plantations with shade trees that provided fruit, timber, medicine or had local ecological or cultural value. Now my partners and I are researching how we can process available fruit from their coffee farms into syrups, concentrates and jams to sell in coffee houses.
The idea is to provide additional income for producers who maintain traditional shade-grown coffee agro-ecosystems with high levels of biodiversity and to use the profits to educate next generation producers in their conservation and sustainable management. This is a nascent project but we believe that the enterprise can be viable with the support of the coffee community.
I am hoping to get information from retailers about how they source fruit products for their smoothies, fruit drinks and jams. Do you source locally? Online? Do you work with a single supplier or have multiple suppliers for different products? We are unsure as to whether we should try to set up a website or work directly through wholesale suppliers.
Any information would be greatly appreciated and of course I would love to answer any questions or discuss the topic with anyone interested.

Many thanks and looking forward to foruming with you all!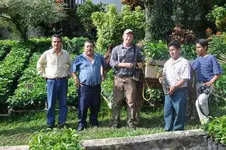 Eric Zentmyer