Sold!!!
2005 Seattle Coffee Truck for sale!
I have a like new 2005 Seattle Coffee Truck for sale. This truck is built by Seattle Coffee Company and you can find all the information you need on their website. The truck only has 13000 miles on it and has been barely used in the last few years. The mileages alone don't tell how new this truck is, the onboard 6000 watt Honda Generator only has 120 hrs on it! It is just barely broken in so when I say like new, everything about this truck is in immaculate condition, interior to exterior. I'm the 2[SUP]nd[/SUP] owner of this truck and I bought this truck last year after getting laid off by my company. I had every intention of starting my own business this year but life took another turn and I was hired by another company with full benefits. Since buying this truck, I have invested a lot of money in putting in a 3 compartment warewashing sink and various equipments into it. I just don't have the time to start my own business and work a full time job that may required up to 60hrs a week sometime. So my lost is someone else gain. Here is a list of everything in the truck.
Custom Four Door Package - EHD approved
2 Group Fully Automatic Espresso Machine (NSF Approved)
Professional Grinder & Knock Box (ETL Approved)
Commercial Refrigerator - 6.0 Cu. Ft.
Commercial Refrigerator - 4.0 Cu. Ft.
3000 Watt Invertor System
Hi-Amperage Fuse Protection System
Deep Cycle Sealed Gell Cell Batteries
6000W Generator w/ muffler system
Multiple Automatic Transfer Switch System
(1) 16 gallon fresh water tank - Espresso Machine
(1) 22 gallon fresh water tank - Hand Sink
(1) 40 Gallon waste tank
Shurflo 2.8 GPM pumps
Espresso Mate Water Condition System (QC4)
Meissner Alpha 1 Filter System (Particle Filter)
Hansen Quick Disconnect inlet valve
Stainless Steel Sink with bar faucet
Stainless Steel Drop in Ice Bin
ISE W152 ( 2.5 gallon ) water heater
Custom Cabinetry with Condiment Counter
Stainless Steel Side Fold Down Shelves
Six (6) Cup Holders
Stainless Steel Towel Dispenser
Start Up Supplies
Pull Out Spray Wand
Counter Top Soap Dispenser
Full Acrylic Pastry Cases
Air Horns - Various Themes
Awnings (3 Doors)
Stereo Speakers in rear
Syrup Rack
Magnetic Menu Board
Blendtec EZ Blender w/ two Jars
Rear Box Roof Vent
I have added a 3 Compartment warewashing sink (NSF listed) that is fully functional. All compartments are 10inches wide, 10 inches long, and 10 inches deep with a swivel spigot. It has hot and cold water pluming and should meet all health code. This truck was intended to be registered in Sacramento, California, which has one of the highest standards in health codes. So it should pass any health and safety inspection.
A brand new truck will run you anywhere from $70,000-$80,000, but why pay that much when you have a truck that is almost like new and will run you less than half the original price. It even has 4 new Michelin tires and 8 new 6 volt batteries in it. That alone cost me over $2000.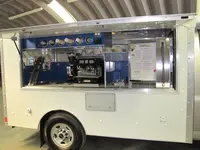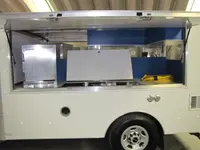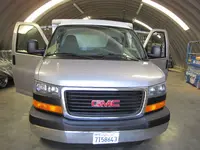 Last edited: