Hey All!
This is Martin from Nectar of Life.
FOR SALE - PRISTINE DIEDRICH IR3 FLOOR STAND MODEL IR3 COFFEE ROASTER WITH METALBESTOS EXHAUST PIPE



NEW LOWER PRICE - $11,500
This is the Diedrich IR3 floor stand model coffee roaster that is no longer sold by Diedrich. They replaced this model with a small table top version. We had this roaster built for us in 2003. We started using it in September 2003, and then purchased a much larger roaster in June 2005. This roaster has
VERY LOW HOURS
. It looks and operates like
NEW!
The new smaller table top version sold by Diedrich costs over
$18,000!
. Their smallest floor stand model costs well over
$20,000!
Here is YOUR opportunity to have a like new Diedrich IR3 coffee roaster AND all the Selkirk Metalbestos exhaust pipe for under $12,000!
WHAT'S INCLUDED
1)
Diedrich IR3 Coffee Roaster - It is rated for 7 lb/batch, but we have NO PROBLEM roasting 8 lbs/batch. Once this roaster is warmed up you can roast 4 - 8 lb batches per hour to a dark roast. That's 32 lbs of green coffee roasted per hour.
2)
4 - 4' sections (16 feet) of 6" Selkirk Metalbestos stove pipe. This pipe will run you around $300 per 4' section new. This is $1200 of exhaust pipe. You need to use high rated stove pipe such as this anywhere that your pipe is near combustibles.
3)
1 - 30" section of Selkirk Metalbestos (for connecting the roaster to the elbow.)
4)
1 - 90 degree elbow with clean out.
5)
Stand for exhaust pipe.
6)
China cap for top of exhaust pipe.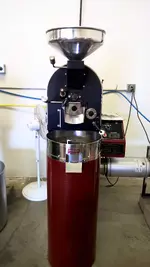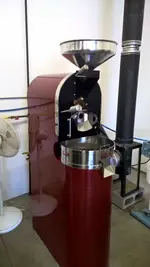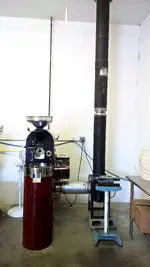 PRICE: (Was - $14,500) NOW: $11,500
LOCATION: Coeur d'Alene, Idaho (83815) - The roaster is currently hooked up so if you want to try it out you're welcome. We can give you a crash course in roasting upon request.
SHIPPING: We will palletize the roaster and exhaust pipe for $200.00. You can arrange an LTL carrier with lift-gate to pickup, or we can charge our actual shipping costs. Shipping weight will be approximately 500 lbs.
CONTACT: ir3 AT nectaroflife.com
Email us for pictures, questions and payment terms.
Thanks!
Last edited: