I was asked to share my experience, as an owner, with the TJ-067 roaster. So a while back I spent several months reviewing roasters so I could purchase my first commercial roaster. I just needed a small roaster as I'm not roasting two or three hundred pounds a day so I scoured the internet to find a great roaster at a reasonable price. I noticed most 1k roasters were $5,000-$6,000 and up and they all offered nearly the exact same options and features. I however was working on a tight budget and quality used equipment is hard to come by. I happened to come across a forum that listed a number of small roasters and the TJ-067 was one of them. I began looking at the roaster, it was made in China so I had a few reservations but kept looking at it. There isn't a lot out there on this roaster but I found some Chinese websites I was able to translate and find more details on it. When I contacted the company they referred me to their US rep, Mill City Roasters. When I called, Steve was able to answer the multitude of questions I threw at him and so I decided to take the plunge. For me the selling point was the price, and the few user reviews I was able to find were all stellar.
Now that I've had this roaster for just over a month I've thrown about 25 pounds of coffee through it. I have the gas fired model and am using propane to power my flame. The option is available, however, to use natural gas instead which I find is a huge plus. I am having the roaster installed in a commercial kitchen and will be able to run an existing gas line to the roaster, never having to worry about refilling propane tanks again.
This roaster is built like a tank. When it arrived the crate had been run through with a fork lift fork, right into the body of the roaster and there was barely so much as a scratch on the machine. I used about 10 pounds of coffee to season the roaster before running a real batch through. Since, I've roasted an additional seven or eight 1k batches for consumption and they have been spectacular. The roaster runs so quietly that I can hear first and second crack from across the room which only helps to turn out quality, consistent batches with this machine. This roaster also roasts as much as it boasts. Most other reviews I read on comparable roasters recommend running under the listed batch size. You can probably run almost 1.5k per batch in this and still have great results (although I haven't tried). My roasts consistently complete between 12-14 minutes depending on the level of roast, and the results are always great! This is a fully manual roaster, so you can't hook up to a computer and just hit go for a profile, but the control you have over each aspect of the roaster, and therefore the roast, are great! The gas control allows precise control of your gas flow, the exhaust fan speed is adjustable (in percentage), and the variable drum speed has helped avoid inconsistent roasting within batches. This roaster also came with a phidget 1048 and thermocouple to allow data logging with a computer which has been invaluable.
Overall this has been a great roaster which has been able to produce great coffee in any roast profile. It has been nearly impossible to screw up a batch of coffee with this machine. The price is excellent and the customer service I have received from Mill City Roasters has been second to none. I highly recommend this roaster to any home roasting enthusiast, or as a shop roaster, or sample roaster for commercial operation.
I hope this review helps anyone who is on the hunt for a great roaster at a great price.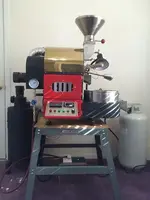 ​