Hello, new member here.
I am trying to repair a Cimbali M2.
The coffee nozzle delivers low pressure and low volume.
Replaced the pump, makes a little difference, but not much.
Expansion valve removed to clean up.
2 little restrictors fell out, but i can't see where they were placed..
Any ideas ?
I will try to upload pics...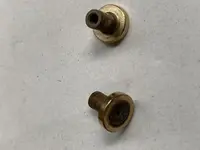 Restrictors ?
Last edited: