I need someone else with the same machine to show me what underneath the valve cover looks like... I have been searching and searching and cannot, for the life of me, find a teardown or deep clean of the exact same brew group.
I'm having an issue where coffee leaks out of the valve cover while brewing, and it collects in the top of the brew group like below, eventually leaking out and all over the inside of the machine.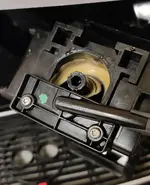 I don't know if there's a seal or o-ring missing or what, but I need to fix this!