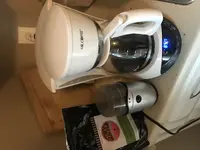 My quick take experimenting with pour overs.
after getting a few great cups from local shops I surmised I deserved better coffee at home and I'd give pour overs a shot. So after some trial and error I found a method that I think is respectable in my mr. coffee maker.
Boil 5 cups of water
grind 1/3 cup of coffee - 2 weeks to month old tops
use and rinse an unbleached filter
grind coffee to med coarse then flatten it in the filter with a small depression in the middle and higher sides. Pour in water starting in the center and then around the edge. Wait 30-45 seconds for bloom. Then pour a full brew in a circular motion starting outside and moving in breaking the bloom. Wait til the grinds are visible and repeat second step for full brew.
finally I transfer the coffee while it's HOT to a Stanley thermos. I never reheat coffee or leave it on a source of heat.
In my opinion, it's a pretty good cup and quite comparable to what I get at the better shops. Now I'm thinking of investing in a better, or maybe it's just more expensive, pour over system. Anyone familiar with my method? Did you upgrade your pour over system and get way better results?
Last edited: