Hi,
I'm new to this forum and I was wondering if someone would be able to help me with my latte art.
I've recently become interested in perfecting my latte art skills. However, I can't seem to make designs in my coffee. I've watched countless videos on the correct pouring technique but I can't seem to have the milk make designs in the coffee. Here is my equipment:
Nespresso DeLonghi machine
Automatic frother
Stainless steel cup to pour milk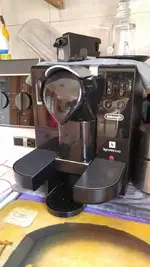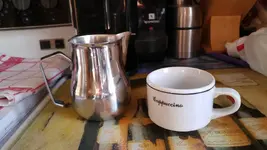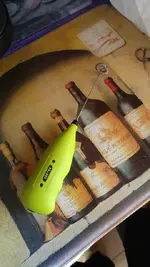 My procedure is as follows:
1. Warm 2% milk to 60 degrees celsius (I've tried warming quickly - 5 minutes - and slowly - 30 minutes)
2. Pour a shot of espresso from my machine
3. Froth milk - I froth at the surface for 3 or so seconds to make big bubbles at the surface of the milk and then froth deeper in the milk until the big bubbles disappear (usually 45 to 60 seconds)
4. I pour the milk into the espresso, starting off high up and then coming lower (almost touching the surface of the coffee) until the cup of coffee is full
Here is one of the best coffee's I've been able to make: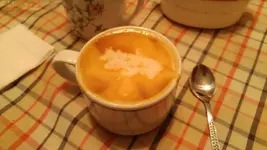 I can't seem to make pretty designs like those seen everywhere on the internet. Here are what I think could be potential problems:
- When I pour the milk into the espresso, the foam seems to stay in the cup and only liquid milk pours into the espresso. Foam only pours into the espresso once almost all the liquid milk is poured into the espresso. Is the milk supposed to be homogeneous or is there supposed to be a layer of foam on top of the milk?
- Many of the videos I've seen use round-bottomed cups. Mine are flat. Does this alter the flow of the milk and change the ease with which one can make designs?
I've been trying for about two months, and this is getting quite frustrating. Any help would be appreciated!
SM