Hello,
I would like to introduce our company.
Coffed was founded in 2008. At first we looked for clients interested in industrial machines and worked as a broker between purchasing and sales. 2009 was a turning point for us as we realized the first project of refurbishment and delivery of machines for another company Mokate in Żory. Everything went fast from that moment on. The market appreciated the knowledge and experience of our employees which in result allowed us to build a 799-square-meter specialised hall serving both as a warehouse and a workshop. Inside, we created a modern plant for refurbishing coffee roasting machines which we have used ever since.
Currently, Coffed employs 26 people who know their job like nobody else. It is their talent and experience that back up our success. We also have our own R&D department where qualified professionals, designers and automatics engineers think how to make the company even better.
Despite clients' recognition, we are not staying in one place. In 2017 we introduced onto the market our own project - SR25 - an innovative coffee roaster which allows the user to adjust its silghtest details of work.
I'm invite you to visit our website: coffed.pl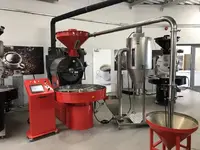 Last edited: