Weasel coffee — premium aroma conquers all your senses
Pini Coffee — Dalat, Viet Nam
-------------------------------------------------------------------------------------------------
Adress:
Limico Weasel Coffee, Tuyen Lam Lake, Da Lat, Lam Dong. Viet Nam
Phone: +84
633.513.111.
Email:
[email protected]
.
Facebook: wwwfacebook/pinicoffee.com
Website: Home Page PiNi Cooffee - Classical Car & Weasel Coffee - PiNi Coffee - Weasel Coffee and Classic Car
----------------------------------------------------------------------------------------------
Pini coffee shop locates at Tuyen Lam Lake, Da Lat, which has known as the second Paris in Viet Nam, Asia.
With the advantage of natural beauty of high mountains, cool air and blue lake, PiNi Coffee becomes the famous coffee shop of traveller in the world in their trip. The unique beauty of green flower garden in the old architecture of Western and the traditional styles of Vietnamese — The luxury space of pine woods — The sweet of poetic scenery — The perfect blend of weasel coffee. Just Pini Coffee — the premium flavor — elegant architecture at Da Lat, Viet Nam
Pini Coffee is for the space's combination of weasel coffee and classical car which located on dreaming Tuyen Lam Lake (where mountain, river, lake and splendid nature come into one to draw a poetic picture). Don't forget to bring a camera to catch any moment. Sometimes, you feel surprising because of the pretty image of sparrow settled on the branch of tree, a boat is cranky following the flow of blue water, fishing nets is silvery under the sunrise. It is the charming nature is parked on your camera.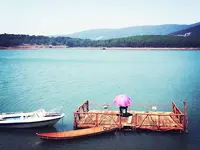 Selected from the best perfect weasel coffee beans, through meticulous preparation process in compliance with "Three Rules" (production process, preparation process, enjoying process) and "Three quantify " (Coffee powder Quantify, water quantity, temperature quantify) ensure to create the best pure perfect cup of weasel coffee that you have never ever enjoyed it before.
The relish of Pini weasel coffee is different from the other. Keep in your tongue is the slightly sweet and then the sour flavor will makes you fall in love. It is not bitter but so sour and a little sweet of milk as if an amazing way to excite your senses and conquer all your feeling.
Unlike the regular coffee, weasel coffee itself has carried a particularly special, inspired visitor a curiosity and desire to explore and enjoy it. These rip and fresh coffee beans have been chose by civets. Through a special digestive process, after entertained in the stomach of the civets from 3 to 4 hours have been pushed out but still kept whole grain crust with silk. However, in special digestive process, the coffee beans have been received a large of special enzymes produced during the metabolism. Through a special production process with "Method of productions and processing Weasel Coffee" granted the monopolistic patent by the National Office of Intellectual Property of Vietnam — has created premium coffees.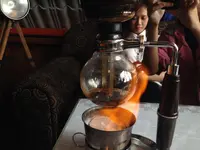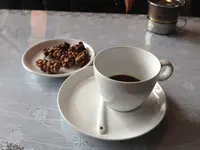 Lets images that how are amazing and strange when sipping a cup of hot coffee in foggy and cold season of Dalat!. Each drop of coffee falls down and drips through the ground coffee by original siphon pot, that feeling make the time want to stop and sleep.
Some people said that when they drank a rip of weasel coffee, their throat immediately kept the sweet sour, not bitter that they thought about and at night, they sleep well". This is special things of weasel coffee at Pini Coffee.
Let come to Pini Coffee to enjoy it. Enjoy once, remember forever.
Moreover, it is the time for you to discover the imposing nature at the second Paris in Viet Nam - Da Lat- the romantic city.
The premier aroma conquers all your senses.