Hey All,
I am fairly new to roasting coffee and have started roasting on the side. I have been roasting on a Huky 500 and have recently jumped to a Probat L12. The learning curve is a little rough (just like my bean curves
). Below are my issues and curiosities as of now:
1. The thermocouple appears to be bad as the max temp it has read is 154 degrees F. I want to connect the bean probe to artisan, but also like the safety feature of the L12 (bean probe connects to Watlow SD 90 and shuts the system off if beans exceed 500 degrees). In order to do this, I need a 4 lead wire which Probat did not appear to have. I have looked on omega and various other websites, but there are way too many choices. Also I want to connect an ET as well. I have phidget I/O I plan to use to interface with Artisan. What are the favorite probes out there? Any sites that are easy to order from? Or will I need to ask for custom job from a place like Omega?
2. Making the jump from the Huky to the L12 has been interesting. I knew buying a L12 would not allow me to roast and cool at the same time, but can I use the cooling slide gate as a damper to control air flow? I tried it once and things became a little smokey.
3. Airflow seems to be okay, but I am having trouble keeping the pilot flame going when I place the sides on the roaster. The flame becomes wavey and then shuts off the gas valve as the flame sensor isn't detecting a constant flame. Any suggestions? The machine works fine without the side panel (see pic), but I feel I am changing the airflow or losing heat by doing keeping it off.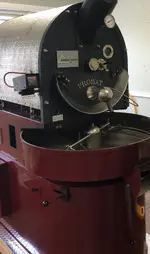 4. Also, I am noticing quite a few green, partially roasted, and pinched/burnt beans. I think this is because there appears to be a gap between the drum and the faceplate. How do you eliminate the gap? Thank you in advance for the advice.