First I want to introduce myself. My name is Holger and I'm living in germany. I hope I'm allowed to post some information about a new coffee-machine (but which is not in production yet).

Since the late 80ths we are in contact with Italian coffee (Espresso) and for some years we imported coffee machines from Italy. Now we developed a coffee machine with some friends over more than 4 years and discussed the features for more than 1 year in the German coffee forum kaffenetz.de.
The Xenia is developed in Germany and will be build in Germany (close to Berlin). Nearly all components are made in Europe (Italy and Germany) - except 3 (tank for water, the driptray made of ABS and the ardunio-based control board).


We build only this one machine as it covers a wide range of features and wishes. The machine can be used as a kind of basic version (Xenia B, HX-machine) and can be upgraded to the version DP (with 2 PID-controllers). It is also possible upgrade the machine to a dual-boiler - but actually we have no reasons to offer it, as the machine is very stable. However there is space for and additional boiler and the controlboard with a 32bit-processor is able to handle the additional tasks.
Apart from the possibility to upgrade the machine, it is possible to customize the machine. We have i.e. a beautiful black faced, handles made of of olive wood or metal. There are joystick-valves for steam and water and you can swap the position of the steam and water valve (fore left-handed persons). The glass tank for water can be lifted or slided out to the left or right (if there are wall cupboards).

Here you can see one of the prototypes (in our kitchen):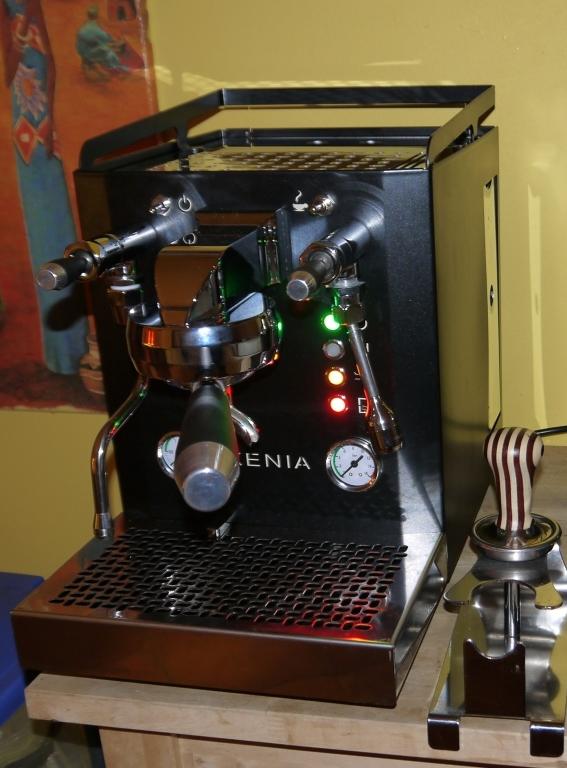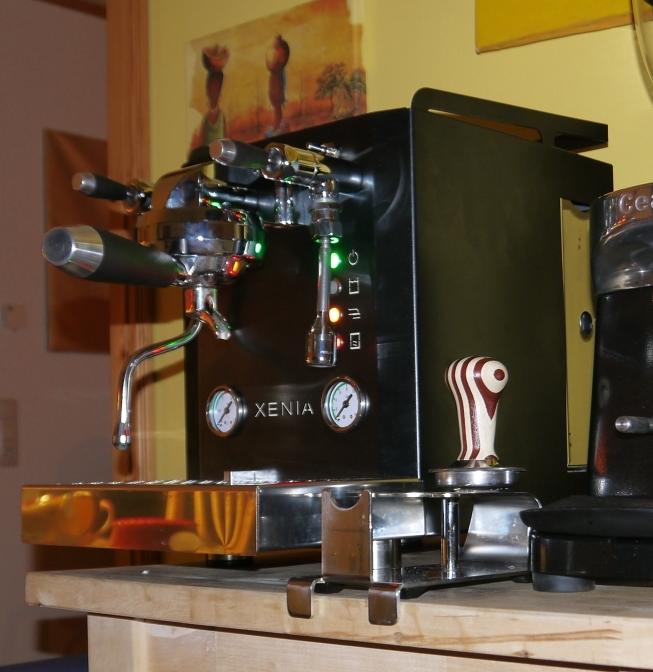 We made many measurements to find the best stability concerning the brew temperature and we developed a kind of new brewgroup which allows is to have influence of the brew temperature.
Some measured curvesyou will find here:
https://www.facebook.com/media/set/?set=a.1626055654332560.1073741841.1612085189062940&type=3
https://www.facebook.com/media/set/?set=a.1626365234301602.1073741842.1612085189062940&type=3
The machine is not controlled by a standard control box, but by a own developed board which is based on the arduino project (in fact it is a ardunio Due) with a lot of input and output ports. The advantage is that we can implement new features if we want - just by using the arduino-IDE and connect the board by USB to the PC - and we are not depending on a external manufacturer. And there is an option to install a 2nd board with more sensors, relays, WLAN, a.s.o.
Even the machine offers a lot of nice feature - it is still a small machine and suitable for many kitchens.
We didn't made everything in another way compared to other machines and we don't think that the Xenia is a breathtaking revolution in the coffee business. But we improved several things and we see now that the people in middle Europe like the flexible concept and beautiful small machine.
If you understand German, you will find 4 threads on www.kaffeenetz.de with some thousands of comments and proposals:
https://www.kaffee-n...-e-n-i-a.92908/
http://www.kaffee-ne...maschine.87167/
http://www.kaffee-ne...teuerung.88577/
http://www.kaffee-ne...gnfragen.89613/
Our website is providing many information in English: homepage
On vimeo you find some videos, like:
https://vimeo.com/159705440
https://vimeo.com/148719238
If there are any questions or ideas concerning the machine - feel free to ask me. I can reply in German and English