We are selling our first production roaster, "Big Red". This is a 1999 AMBEX 5KG roaster, modified for profile roasting and logging via Artisan or Cropster. The roaster is in good condition, production ready, setup for LP (liquid propane). It can be switched to natural gas by changing a part on the gas valve (probably less than $100 for this part).
The roaster did not originally come with a chaff collector, so we ordered one from the manufacturer in Florida several years ago. It works wonderfully and we will include the high-heat rated duct between the roaster and the chaff collector (nordfab ducting). You will need to plan to run duct from the top of the chaff collector to the outside (6" pipe).
Here are the modifications we've made:
Installed a new adjustable/fluid gas valve (original valve was on/off only).
Installed new ET and BT K-type 3mm (diameter) ungrounded probes from Phidgets
Installed phidgets data bridge for USB connection
Added chaff collector
Replaced pilot line
Replaced original factory thermocouple
Here's what the roaster includes:
Roaster itself, currently on a furniture dolly/casters
Chaff collector
NORDFAB high-heat duct between roaster and chaff collector (approx. 4' of duct).
2 commercial 40-lb LP tanks
PRICE FOR ALL: $7900
We'll be posting pics in the coming days. Buyer responsible for pickup in Nashville, TN at our small warehouse where the roaster is stored. We are happy to help you load up, and will have a forklift available if you prefer to load on a flatbed or box truck. Thanks!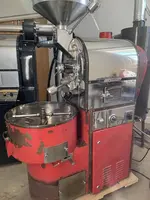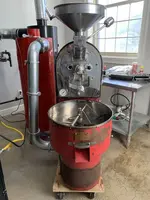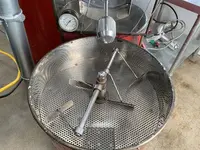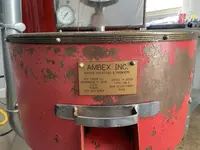 Last edited: